Exhibition and Event Graphics
We produce and supply a wide range of graphic solutions and services all under one roof to help your event run smoothly and successfully. Our range of products, including shell schemes and bespoke made to measure options, provide a wide choice to suit all budgets.
Make a Green Stand
We actively seek to supply exhibition graphics which have a strong sustainable character and continue to develop innovative eco solutions to achieve the most impactful results with the least impact to the environment. Our most popular products include:
GreenTex™ – A non-PVC alternative to vinyl, which is made from 100% polyester fabric and is repositionable over 100 times. This allows it be moved or re used without leaving any residue, meaning less waste, more cost effective and creatively very flexible!
GreenWall™ – Made from recycled kraft cardboard, which therefore makes it 100% recyclable and offers a solution that looks contemporary, is light and is easy to handle and install.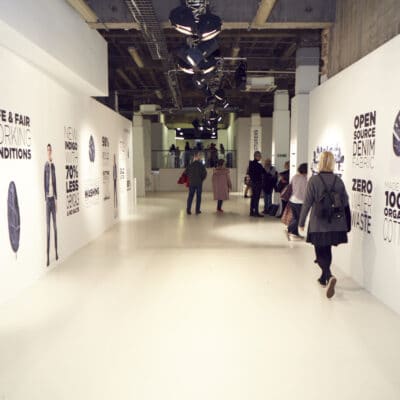 We understand the commitment and investment needed to make your event a success, our experienced team provide supporting services for a complete and seamless experience. We work hand in hand with you from concept and design, with full project management, through to production, installation and the final de rig – our highly experienced team deliver the full package, from start to finish to ensure your stand looks its absolute best.
And it doesn't stop at the stand, with our services all under one roof we can enhance your investment to exhibiting your brand, with supporting event materials, such as high quality business cards, brochures and leaflets incorporating variable data, and promotional merchandise to help your brand stand out in the crowd.
And that extends to improving your carbon footprint and sustainable standards  – you  can be assured that you are choosing a partner to deliver your requirements to the highest sustainable standards without compromising quality or price, and we're really nice too!