Established in 1993, we are widely recognised as a leading centre for sustainable graphic communications in the UK. Our whole ethos has been built on delivering a sustainable approach to print and creative services coupled with strong values. We believe in maintaining high quality standards and delivering commercial success whilst at the same time reducing the impact on the environment and providing real business benefits to our customers. 
We continue to invest in sustainable innovations and technologies, furthering our commitment to the environment.
Last year alone we saved:
10 Tonnes + of waste paper
7 Tonnes + of carbon
9 Tonnes + of carbon is saved by our e-vehicles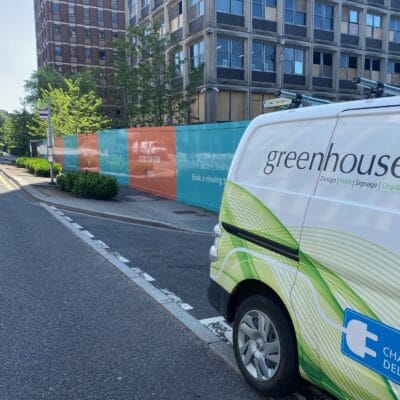 Our Commitments to the Environment
Carbon Calculator
Sustainable Resourcing
Reduce, Reuse, Recycle
ISO14001 Accreditation
Electric Fleet
World Land Trust
Our pioneering Carbon Calculator is a straightforward way to manage your print carbon footprint, we calculate the carbon used, provide options to reduce and finally offset carbon with World Land Trust. You can also opt to display this data with a unique graphic to promote your environmental commitment and eco friendly credentials.
Three simple steps to calculate your print carbon, with options to reduce and then offset.
          Specify 
Send us your eco friendly print specification, if you don't have one not to worry, talk to us and we                 can help.
Report
We review the requirement, work out the figures based on paper type, ink and quantities and provide a report with options to make further reductions if that is your goal.
Offset
The final carbon usage can be offset via the World Land Trust and we can provide a certificate for your records and also a graphic that can be used on the piece of work to promote your sustainable standards.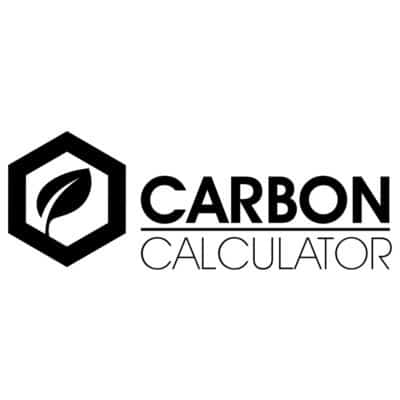 Our commitment to the environment and conservation runs deep and we are committed to a number of schemes including:
Capture® Programme, who have helped raise over £1.3 million for the Woodland Trust, who have planted more the 354,000 trees and captured over 82,000 tonnes of carbon.
Forest Carbon, who have planted more than 8 million trees in the UK and a further 2.5 million overseas, equating to over 2.5 million tonnes of carbon removal.
World Land Trust, which is an international conservation charity that protects and preserves the world's most biologically significant and threatened habitats. World Land Trust has to date saved more than 16,000 acres of forest and 41 threatened and endangered wildlife species.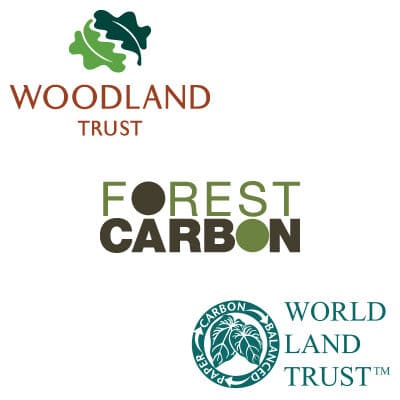 Our commitment to sustainability continues through everything we do and that includes our vehicles. We now have a growing electric fleet with each of our e-vehicles saving up to 9 tonnes of carbon per year which means cleaner deliveries and cost savings for you so do give us a little wave if you see our lovely vans out and about!
Recycled and Sustainably Sourced Paper
We love paper and can advise on the best sustainable choices available. There are many myths and misconceptions commonly thought about paper and printing and we can reassure and advise with any concerns or questions.
The print industry is leading the way when it comes to sustainable raw materials, renewable energy and recycling rates – and as we only supply recycled or sustainably sourced papers, with our experience and expertise we're able to share our best practices and improve environmental standards and help to reduce your carbon footprint without making any compromise.
Paper is made from wood, a natural renewable and sustainable resource.
Paper ensures healthy growing forests, with an indispensable role in climate and biodiversity protection.
Between 2005 and 2020, European forests grew by an area the size of Switzerland.
56% of fibre comes from paper for recycling.
In Europe, 74% of paper and 83% of cardboard packaging is recycled.
A number of certification schemes exist to ensure forests are sustainably managed.
Most terrestrial biodiversity is found in the world's forests.
Paper and cardboard is the most recycled packaging material in Europe. In 2018, the European paper and cardboard recycling rate was 83% – the highest of any packaging material.
Our FSC & recycled papers can be used for a wide range of printed products without quality compromises
Our FSC & recycled papers are not priced higher than equivalent virgin paper stocks
Our FSC & recycled papers and our recycling procedures takes pressure off landfill
Our FSC & recycled papers support companies with a strong CSR profile or with ISO14001 Accreditation
Our FSC & recycled papers are becoming ever more popular and are considered the preferred choice for organisations
FSC and recycled papers offer high quality and cost effectiveness and are a simple, effective way for any business or organisation to improve its energy consumption, support corporate social responsibilities and adhere to CSR policies.
And as we only purchase sustainably sourced or recycled papers we can advise and support your commitment to the environment and climate change.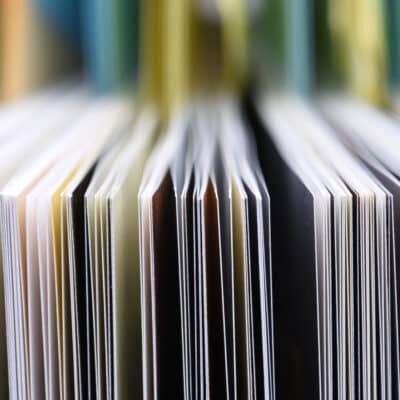 We are ISO 14001 accredited, which sets the standard for Environmental Management Systems. We continually improve all of our working practices each year and are very proud to receive this accreditation for the 14th successive year.
We were chosen as the national case study for HAZRED in 2007 for our work in eliminating hazardous waste from our litho printing systems.
In 2005 we became the first UK fsc certified printing company to generate electricity using our own PV Solar panels.
Our clients include a number of internationally known environmental organisations
Paper is one of the most recycled products in the world and epitomises the circular economy model of make, use, recycle and reuse.
Environmental initiatives we also include in our daily business practices:
The significant reduction of Volatile Organic Compounds (VOCs) emissions through the almost complete eradication of IPA (Industrial Alcohol) on our presses
The significant reduction of VOC emissions through the use of vegetable oil based inks and non VOC washes
The total elimination of hazardous waste emissions in our print process as verified by HAZRED.
The reduction in energy demand through the installation of both PIR and segmented lighting systems and a 'Switch off' policy
The recycling of nearly all waste from our litho print processes
The significant reduction in waste by the implementation of our bespoke MIS, which monitors production efficiencies through investment in CIP3 Ink Profiling and the investment in Horizon and Morgana equipment to significantly reduce set-up waste in the finishing process.