GreenTex™ is an innovative eco product Greenhouse developed as part of our sustainable range of display materials. Its unique qualities means it can be self installed because it is both reposition-able and also very robust. If you make a mistake you simply remove and try again without leaving any residue or damage to the surface.
Suitable for almost any surface, GreenTex™ can be installed as a temporary covering for a short term event, for longer term where other materials may not be suitable, or as a more sustainable alternative to traditional vinyls. It can even be applied on vehicles for a temporary campaign.
Watch our GreenTex™ video. This can be done up to 200 times!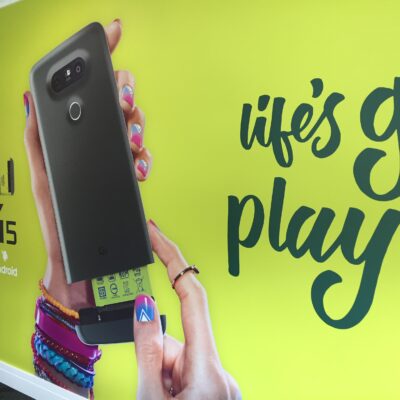 Speak to us to find out more
We actively seek to supply products that have a lower environmental impact; conventional wall coverings are made from PVC, whereas GreenTex™ is made from polyester, which is recyclable.
In addition, the GreenTex™ innovative adhesive technology means that it can be reused up to 200 times and can be removed and stored to use again when needed, avoiding unnecessary waste as well as saving on reprint costs.
GreenTex™ can also be supplied with an antibacterial coating which makes it a perfect solution, ideal for healthcare and educational settings, public areas and any environment needing that little extra protection.